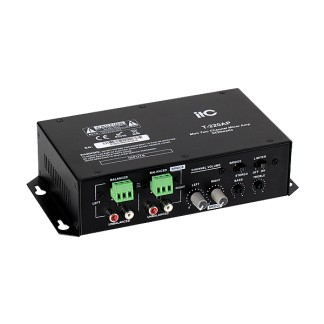 T-220AP 2X20W Mini Stereo Class D Amplifier
SYMBOL: T-220AP
availability: average number
print
Product description

Features
* Smart compact size for tabletop or wall mounted design.
* Digital high efficiency mini amplifier.
* Stereo output 20 watts by two channels and bridged output 40 watts
* 2 Mic/line switchable inputs by phoenix connectors and 2 unbalanced aux inputs by dual RCA type
* Left and right master volume controls over Mic and music , bass and treble tone controls.
* Left and right channel outputs by phoenix connector , bridged or stereo output two options with switch
* Speaker stereo outputs at 4 ohms/ 8 ohms and speaker bridged output at 8 ohms.
* Built-in limiter for low noise and efficient operation, with limiter on/off switch, which make it suitable for laptop and iphone input.
* DC 24V power adapter is included.
Technical data
Power Supply

24 V DC

Rated Output Power

2x20W or 1x40

Inputs

MIC: 5mV/600W

AUX: 350mV/10kW

Outputs

4 or 8 Ω

Frequency Response

50Hz - 18 kHz

S/N

> 85dB

Dimensions

230x115x56 mm

Weight

1 kg
Documents for download